Home
>
Academics
>
Journal
>
JOP
JoP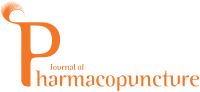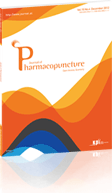 JoP (Journal of Pharmacopuncture)
Journal of Pharmacopuncture has quarterly been published since 1997 and indexed on E-SCI (Web of Science) and MedLine (PMC) from 2012 vol.3. In 2010, the title was changed from Journal of Korea PharmacopunctureInstitute to Journal of Pharmacopuncture.
As an open access and peer-reviewed journal, the Journal of Pharmacopuncture is indexed in the SCOPUS, E-SCI, MedLine (PMC), Korea Citation Index (KCI) and Directory of Open Access Journal (DOAJ).
Journal of Pharmacopuncture aims to present Evidence-Based Medicine research results with a special focus on KoreanMedicine, each countries' traditional medicine, integrative medicine and pharmacy, veterinary medicine, and pharmacopuncturology. Delivering high-quality papers related to pharmacopuncture and KoreanMedicine, Journal of Pharmacopuncture contributes to advancing KoreanMedicine.